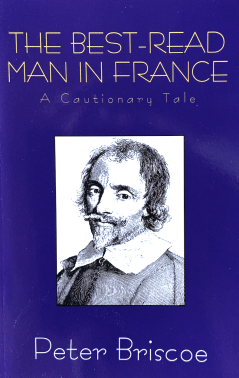 The Best-Read Man in France
A Cautionary Tale
Published by Borgo Press
Editorial Reviews

"Library 21's Best Book Selection for 2011. Peter Briscoe has elevated...21st-century librarianship to daring literary heights in this scintillating gem of novelistic insight....Mr. Briscoe's work is refreshing, intellectually exuberant, and engaging."—Libraries 21 for the Cultivated Librarian.

"It is a breezy read for a summer afternoon, and for those of us in the trade—librarians, booksellers, collectors—you may well recognize yourself here, and smile."—Fine Books & Collections.

"A provocative novella that does not shrink from addressing difficult issues about the fate of books in the digital age."—College & Research Libraries.

"A tale steeped in the Parisian book scene and a love story to boot."—Western European Subject Specialists Newsletter.

"Not to be missed. A new novel that celebrates Latin American booksellers and bibliographers."—SALALM Newsletter.

"Brings to mind the kind of bookish games Borges and his fellow Latin American writers are fond of playing—and Briscoe's witty, sly tribute here is to Latin American booksellers and bibliographers."—Deccan Herald (India).

Reader Reviews from amazon.com (a few excerpts)

"The story is provocative and quick-paced and enjoyable. I purchased it because Briscoe's other book 'Reading the Map of Knowledge' is hugely influencial on the way I view reading and knowledge. The book also sparked many conversations between myself and my friend who also read it."—Sebastian, 12/13/2015.

"This is a wonderful story for people who love books. Peter Briscoe deftly captures what may be a vanishing culture of associations surrounding the creation of great library collections—the texture of the human relations between professional booksellers and acquisitions librarians, based on shared assumptions of the need to promote excellence in scholarship....It is that ineffable element of artistic endeavor, of bringing about a 'whole' with parts integrated by human aspiration, expertise, perseverance, and choice, that Briscoe captures wonderfully with a true insider's eye for the details and customs of the international book trade. The novel has an elegaic tone, however....What [the protagonist] Ashe learns..., and how he deals with the sea changes in his own life, offers some small hope, and more than a little wisdom, for the rest of us. If you know someone who loves libraries, give them this book."—Thomas Mann, 8/11/2007.

"The Librarian as Artist. Peter Briscoe's Best-Read Man in France joins a fine collection of works that are encyclopedic, because the creators exhibit a vast knowledge and erudition....I am thinking of Poe's Marginalia, Huysmans' A rebours, Jorge Luis Borges' The Library of Babel, and many other works. [The] novel depicts the character of Michael Ashe, an itinerant, knowledgeable bookseller most sympathetically, a solitary man, an international traveler....Michael's amorous relationship with four women—Elise, Irena, Elizabeth, and Maria—contain delicate depictions of sensuality and erotic experience. I value highly the Parisian sense of place, the culinary details, and the distinctly international quality of this book. It is so Latin American, so French and international in the most positive sense of the word."—E. Martinez, novelist, 8/8/2007.


Originally published 2007. Revised edition 2012.




Paperback | 127 pages | $13.99 USD | 6 x 9 | 978-1434436993 | December 25, 2020