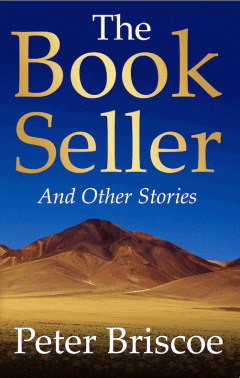 The Bookseller and Other Stories, Second Edition
Published by Palo Verde Press
Editorial Reviews

2021 International Latino Book Awards Honorable Mention (First Edition)

"The Book Seller story was riveting! I couldn't put it down and I read it in a single sitting. I'm a great Borges fan, so I loved the echoes, both in style and subject matter."—Patricia Fara, historian of science and author of
Life After Gravity: Isaac Newton's London Career
"Gripping stories explore the future of libraries in an increasingly digital age."—
Publishers Weekly BookLife Reviews

"Only Peter Briscoe, a lifelong collector of books for one of the nation's leading universities, could have written 'The Bookseller,' a mysterious tale of a bibliomaniac who dedicates his life to the preservation of the 'forests of books' found in the world's libraries. 'The Bookseller' will make you fall in love with libraries all over again."—Wendy Williams, author, The Language of Butterflies: How Thieves, Hoarders, Scientists and Other Obsessives Unlocked the Secrets of the World's Favorite Insect.


"Three eloquently short character sketches – minuscule stories about ordinary people. Who were they? Why did they matter? But do we not all matter? And then the story of a bookseller, an unexpected mystery revolving around books, most specifically rare books. Señor Molina is a historian, irate, irrational, eccentric, but he has uncovered a disturbing trend of missing rare books at La Biblioteca Pública de Carmona in Ecuador, a library steeped in history and a connection to the early Jesuit schools and the best libraries in the world. The books are worth a fortune, but the mystery remains unsolvable... or does it?
"Author and librarian Peter Briscoe knows about libraries. He even writes about them, defining them as few others can: "They [libraries] are seen simply as buildings with lots of books in them, confusing to use, where old maids who run them tell people to keep quiet. ... In reality, the library is a space-time machine, where a reader can go anywhere, microscopically, telescopically, past, present, and future, and especially into the minds of other humans. A nonreader lives his or her life, but a reader lives multiple lives." The Bookseller is a collection of three very short narratives, character sketches, and then his longer short story after which the book is named. In The Bookseller, the reader follows library history in Latin America, as a marvelously complex case of library theft attracts a local police detective, who just happens to be a passionate book-lover.
"The plot is complex and spellbinding, the history fascinating. The characters are well developed with complex nuances and attributes that have the reader guessing the resolution until all is finally revealed. And then there is that nagging question: what is it about books that would make someone want to steal them? A compelling and enlightening read; a collection of stories that will certainly have the reader looking deeper into the human psyche."—Rating 5 Stars. Reviewed by Emily-Jane Hills Orford for Readers' Favorite.


"The Bookseller: And Other Stories by Peter Briscoe is a series of stories written in elegant, literary style. The first three pieces are very short with the ambiguity of Wallace Stevens' poems. They seem unfinished, thus, the question: what do they mean? The featured piece of the collection is the much more formidable The Bookseller with the same elevated, challenging style but a tale with a beginning, middle and end. It's a mystery involving a mysterious series of thefts from a major Latin American library. Amid his world travels, after a fine meal, a bookseller tells the tale to his admirers. A library patron is fed up with his inability to find the books he wants to read and makes a fuss, which eventually reveals that major book pilfering has been going on for years. The quest then becomes to find the who, when and why. Detective Robles and the library's director of collections Dr. Andres Vidal launch an investigation.
"If you love the beauty and depth of fine literature, you will love The Bookseller. Peter Briscoe's prose is brilliant and flawless, right up there with all the canon's greats. The plot combines mystery, police investigation, and library protocol. But what I liked most is the idea (theme) behind the majesty of composition: the present clash of the ancient tradition of books and libraries with the present emergence of digital technology, the former to evaluate and codify knowledge and the latter merely to collect it. There's also the aesthetic and psychological comparison between reading a book and viewing a screen. I think we've all seen the clash in our local libraries where books are dumped to make way for computer monitors. In the magnificent tapestry of Briscoe's story, all these elements blend to perfection along with a startling surprise at the end. If you appreciate mystery, ideas, characterization, libraries, and elegantly written expression reminiscent of Balzac, all woven into a memorable work of literary art, The Bookseller is for you."—Rating 5 Stars. Reviewed by Jon Michael Miller for Readers' Favorite.


"The Bookseller: And Other Stories by Peter Briscoe is a linking collection of short stories. Inside this book is prowess of the written word like you probably have never seen it. Briscoe's voice doesn't just welcome you into his fictional world with his fictional characters. He transmits your mind into the exact space where everything is transpiring on the page. Without giving too much away, it is fair to say that Briscoe's arena of literary fiction is easily juxtaposed next to Hitchcock's expertise at psychological terror. Though the genres may seem to be at opposite ends of the spectrum, both contain such a mastery of their field that they feel side by side.

"Peter Briscoe's The Bookseller: And Other Stories had me completely entertained from the minute I started reading it until the minute I finished it. It was a seamless read, for sure. Even though the stories are broken into sections, I felt it brought an extra flavor to the story that it might not have had otherwise. There's a bit of a 'put these puzzles' together vibe that the reader is ready and able to accomplish by the end. Two of my favorite sentences from the book are on pages 26-27: "Yet he entered the library as others enter a church. Indeed, there were times when passing through its great street doors, he shivered, not with fear but anticipation.' There aren't many writers who have the ability to put words down like that. Peter Briscoe has written an exceptional collection of short stories that you won't want to miss out on."—Rating 5 Stars. Reviewed by Erin Nicole Cochran for Readers' Favorite.


"The BOOKSELLER is a gem--refreshing...warm, elegant....The first three brief vignettes take readers inside the mind of an unnamed character--male, aware of and attractive to women. An inward wistfulness in these vignettes leads well--stylistically--into the final and longest of the stories....This story carries its plot lightly, unwinding in an unexpected way, while making space for a thoughtful meditation on the nature of libraries....Briscoe rises to the challenge of capturing essence concisely. His writing packs rich thoughtfulness and vitality into surprisingly few words...creating a tone of intimacy and introspection."—Rating 4.4 stars. IndieReader Approved. Reviewed by Ellen Graham for IndieReader.


"History and intrigue combine in the compelling short stories of The Bookseller....The reveal is the most fascinating factor of the [title] story; it reveals a motive more intellectual than criminal. The result is an engaging story about more than books, but about friendship and trust between two people who, otherwise, would have never crossed paths."—Reviewed by Dontaná McPherson-Joseph for Forword Clarion Reviews.


"[An] intensely involving work...The author combines emotive echoes of Latin American literary style with cops-and-robbers plot twists. And, importantly, Briscoe presents a multi-layered view of a gradually evolving change in our shared intellectual experience that deserves serious contemplation."—Reviewed by Barbara Bamberger Scott for The US Review of Books.


Reader Reviews from amazon.com (a few excerpts)
"This book consists of three short descriptive cameos and a short novel. The writing is beautiful, evocative, and skillful, maintaining interest and excitement. The underlying theme of the novel is the fate of libraries and books in the modern world, as told through the gaze of a complex and rather driven librarian. Besides being a wonderful read, this book thus raises many important questions about where civilization is going."—E.N. Anderson, 2/14/21
An Interview With the Author (Excerpts)
From Indie Reader
What inspired you to write the book?

When I studied to become an academic librarian I read hundreds of books on librarianship, the transmission of recorded knowledge, bibliography, bookselling, and many other facets of the book world. These were non-fiction works crucial to developing my expertise. However, I also treasure fiction, which allows one to experience things from the inside, vicariously. Fiction provides insights and imaginative leaps you will never find in non-fiction. Fiction gets at truth without needing footnotes. It has its own ways. So, naturally, as a student of librarianship I looked for novels and short stories on the subject. And what did I find? Almost nothing worthwhile, with notable exceptions. The library as an institution is 2,700 years old (by contrast the university as an institution is 1,000 years old.) You would think it would have received decent treatment in the literary world, but only three excellent books come quickly to mind: Borges' Library of Babel, Bradbury's Fahrenheit 451, and Eco's Name of the Rose. To be honest there are a few other books that treat the library well, but only incidentally. The rest are mostly feel-good books, silly or saccharine, promoting stereotypes of librarians as Goody Two-Shoes or fuddy-duddy amateur sleuths; still others are fantasies and fairy tales. These genres and character types all have their place in a library's collection, but are they accurate portraits of the library itself, an institution invented by the great king Ashurbanipal of Nineveh three millennia ago? My own experience as a librarian has been quite different. In general I worked with intelligent, highly educated, often multi-lingual, worldly librarians. In physical appearance they were everyman. They had personal lives, they had sexual lives, they had interesting past histories. I felt they deserved a book.

In addition, as a collection development and book acquisitions specialist, I came to know hundreds of booksellers from all over the world. What fascinating individuals they are! Some had amazing stories to tell, but almost none ever wrote them down. I used to beg them to do so, to really describe the life and lore of bookselling (especially the rare book dealers). There are famous memoirs of booksellers, but not many good works of fiction. Too often the novelist's bookseller is a mere prop, and the reader learns almost nothing about his or her art. (Alameddine's An Unnecessary Woman is a stunning exception.) To address these deficiencies, I wrote The Best-Read Man in France (Wildside, 2012) and The Bookseller (Palo Verde Press, 2021). Both are novellas: the first about a Los Angeles rare book dealer who searches in Mexico and in France for his stock and who is inspired by Gabriel Naudé, a 17th-century French librarian who founded research librarianship; and the second, described above, about the essence of a library wrapped in a mystery. I guarantee that my characters are not Goody Two-Shoes, but rather superb professionals who love what they're doing and who have lives of their own.

What's the most distinctive thing about the main character? Who—real or fictional— would you say the character reminds you of?
Andrés Vidal is a complex man of knowledge keeping an eye on a looming dark age. I had no model in mind when I thought him up. Upon reflection, perhaps Icarus.
Paperback | 86 pages | $9.95 USD | 5 x 8 | 978-0-9634898-8-3 | January 31, 2022